CMU Professor Jaung-Geng Lin Received the "Friend of Foreign Service Medal" from Ministry of Foreign Affairs for His Contribution in Promoting Chinese Medicine and Acupuncture
Date:February 19, 2021
China Medical University (CMU) Professor Jaung-Geng Lin is a world famous expert in acupuncture evidence-based medicine. He has been dedicated to promote medical diplomacy with traditional medicine and acupuncture, and he actively participated in international lectures, medicine practice, and academic exchanges. With his great contribution and achievement, Professor Lin uplifts Taiwan's international status in the field of Chinese medicine, and he is awarded the "Friend of Foreign Service Medal" from the Ministry of Foreign Affairs.
The excellent contributions of Professor Jaung-Geng Lin are:
Attending WHO:
Professor Lin has been attending various WHO meetings and forums since 2009. In the 2017 WHO executive meeting, Professor Lin was invited to give a speech as a keynote speaker.
Attending UNESCO:
The book "Compilation of Diseases Term for Chinese and Western Medicine" (中西醫病名對照大辭典) compiled by Professor Lin was listed as an important reference for the intangible cultural heritage of UNESCO. Therefore, since 2013, Professor Lin was recommended by the World Federation of Chinese Medicine Societies to appoint as an expert and consultant of UNESCO.
Promoting international cooperation and receiving awards:
Professor Lin has been invited to many areas in the world to give lectures, provide acupuncture services, and train acupuncture talents both domestically and internationally. Moreover, many world renowned universities have appointed Professor Lin as visiting professor. By giving lectures in different universities, Professor Lin promotes Taiwan's traditional acupuncture medicine to the world.
From 1979 to 1980, Professor Lin was assigned by Taipei Veterans General Hospital to give acupuncture service in Saudi Arabia. He was trusted by the local people and was honored the "Golden Robe Award."
From 2003 to 2009, Professor Lin was elected as the director of the Chinese Medical Association of Acupuncture. In 2007, he made Chinese Medical Association of Acupuncture a member of the World Federation of Acupuncture-Moxibustion Societies, and led a team to participate in the world acupuncture conference. Furthermore, in 2009 Professor Lin made efforts to establish the Asia Advanced Forum on Acupuncture-Moxibustion, in which acupuncture experts and scholars had a chance to connect with each other and form cooperation.
The academic research done by Professor Lin has also attracted great attention in the international academic field. Nature, the prestigious journal publisher, invited Professor Lin to co-edit many books since 2010. The textbook "Experimental Acupuncturology" compiled by Professor Lin is by far the only English textbook for experimental acupuncture.
In 2020, the book "Atlas of Acupuncturology" compiled by Professor Lin was published. This is Taiwan's only official textbook published by National Research Institute of Chinese Medicine. With its publication, Taiwan's international status in acupuncture research and teaching will sure be enhanced.
Photos: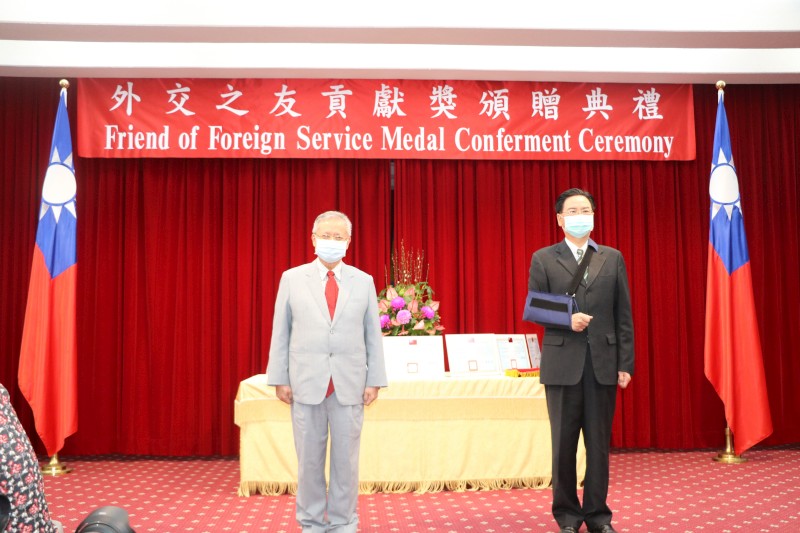 Professor Jaung-Geng Lin (left) in the Conferment Ceremony
Professor Lin (left) and the Foreign Minister Jaushieh Wu
Professor Jaung-Geng Lin