China Medical University Hospital Superintendent Long-Bin Jeng's Cross-disciplinary Team Receive the "2020 FutureTech Demo and Breakthrough Award"
Date:September 9, 2020
The cross-disciplinary team of China Medical University (CMU) and National Chiao Tung University (NCTU) received the "2020 FutureTech Demo and Breakthrough Award" by their research technology: Low-dose nanoscale biomimetic cell structure–Next-generation platform technology for advanced precision immunotherapy. The team members include NCTU Chair Professor San-Yuan Chen, CMUH Superintendent Long-Bin Jeng, Vice Superintendent Woei-Cheang Shyu, and Assistant Research Fellow Chih-Sheng Chiang.
This research combines nanotechnology into the concept of immune bionics, and develops an artificial immune system with fucoidan nano magnetic structures, which successfully improves the immunity in tumor and prevents tumor metastasis and recurrence. In addition, this innovative technology can greatly shorten the course of treatment and simplify the administration of drugs, providing a better way than adoptive cell therapy. With its scientific breakthrough, this technology received very high appraisal by the award committee.
"We not only found that fucoidan nano structures are bionic, but also provided new functions to the bionic structures after integrated nanotechnology. This technology can obtain a more comprehensive immune response through intravenous administration, which surpassed the current complicated process of culturing T cells in vitro. Moreover, it can alter the treatment combination according to patients' individual differences. This is certainly an important milestone of the technology breakthrough of Taiwan's immunotherapy," said Superintendent Long-Bin Jeng.
Photos: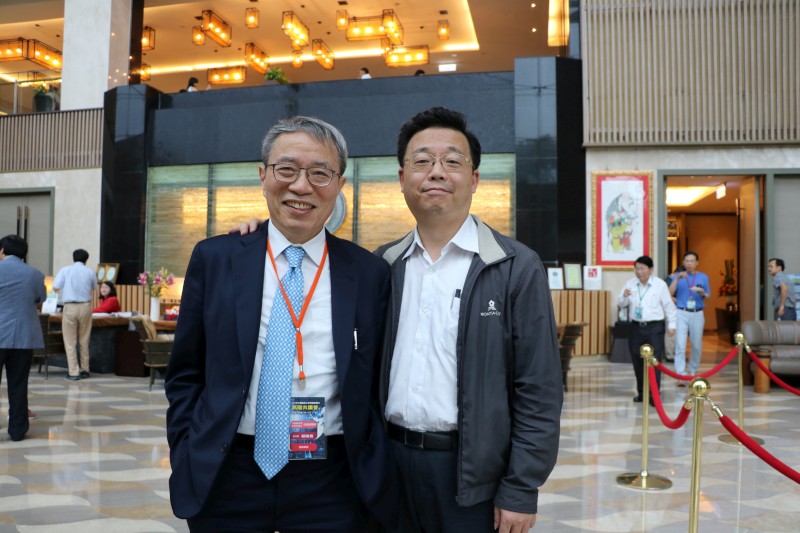 Superintendent Long-Bin Jeng and Vice Superintendent Woei-Cheang Shyu
Low-dose nanoscale biomimetic cell structure–Next-generation platform technology for advanced precision immunotherapy