Overview
Brief Introduction
Lifu Education Building
China Medical University (CMU) was established as China Medical College on June 6, 1958 and transformed itself into China Medical University in 2003. It is the first academic institution in Taiwan where Chinese medicine and pharmacy programs are provided. The university has steadily grown to its present position as one of the foremost medical universities in Taiwan. The university has two major campuses, Taichung (including Wuquan and Ankang) and Beigang.
Located in the center of Taichung City, CMU includes 8 colleges where western medicine, Chinese medicine, pharmacy (including Chinese herbs), health care (including nursing), life sciences, management, and public health educational, research and practice programs are provided. Interdisciplinary courses are also available as the basis for students to integrate their learning experiences. With CMU's top ranked laboratories, a library and reference center, two comprehensive teaching hospitals, and a strong staff commitment to students, our university provides a total approach to medical education in a caring, nurturing and well-equipped environment.
Milestones
Milestones
1958
International Collaboration Network
1980
The establishment of China Medical College Taichung Hospital
1984
The establishment of China Medical College Beigang campus
1985
The establishment of China Medical College Beigang Hospital
1997
China Medical College Taichung Hospital was promoted to a Would-be Academic Medical Centers
2000
China Medical College Taichung Hospital was promoted to an Academic Medical Centers
2003
China Medical College was transformed to China Medical University
2007
Inauguration of Wuquan campus
2008
China Medical College Beigang Hospital was promoted to a Metropolitan Teaching Hospital
2010
Ground breaking ceremony of the Build-Operate-Tansfer (BOT) project for the planned Tainan Municipal Annan Hospital
Mission Statement
Our mission is to become a global leader in both western and Chinese medicine. In everything we do, we strive together to gain international recognition as a provider of medical services to our community, an educator of future health care professionals, and a contributor to the world's knowledge in health sciences.
Recent Accomplishments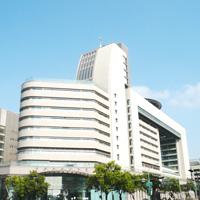 Taichung (Wuquan) Campus
School of Medicine successfully passed the assessment conducted by the Taiwan Medical Accreditation Council (TMAC) and was rewarded with an exemption from follow-up evaluations for the next 7 years.
The China Medical University Hospital has been recognized as one of the nation's top medical centers by attaining an A-level evaluation as a teaching hospital.
Continuing education and administrative support received appraisals in the upper percentiles by the medical division of the Ministry of Education.
From 2006 to 2009, China Medical University was awarded a Teaching Excellence Grant by the Ministry of Education, ranking the highest among medical universities in Taiwan based on student population.
Long-term Objectives
Ankang Education Building
China Medical University strives to become one of the World Top 500 universities as ranked by ARWU. This involves not only excellence in teaching and research, but also a broad comprehensive approach to healing and promoting health.
The China Medical University Hospital plans to enter the prestigious Top 3 as a medical center in Taiwan partly by completing the construction of 5 new Clinical Centers.
The China Medical University Beigang Hospital plans to become a regional teaching hospital.